Hung Sao Do are available for a wide range of Karate services.
If you are looking for advice on any aspect of Karate, Martial Arts, or Self-defence, our highly qualified staff are available to help.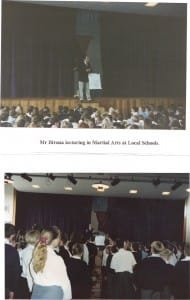 We can offer presentations and are available to host Technical Seminars on every aspect of the art. From training new starters, Tameshiwari or use of the staff to name but a few.
In the area of Sports Chanbara, Hung Sao Do are foremost in this sport in the UK. If you would like to know more about Chanbara we can arrange demonstrations and training.
If your club requires official endorsement through the use of professional Examination Gradings; Hung Sao Do are qualified to assist.
Join Hung Sao Do
Do you run a Karate club or society? Do you want to become part of our exciting and forward thinking group? The Hung Sao Do club is expanding, and always on the lookout for like minded professionals, who want to advance the Freestyle Karate movement.
Hung Sao Do is a professionally run club, with hundreds of members. We have an approved grading structure, and an excellent syllabus. Full support is given to new clubs to launch themselves efficiently and promote Karate in the community. Tutors are encouraged to follow the lead of Hung Sao Do, for the advancement of themselves and the benefit of their members.
With a full infrastructure of coaching staff to cover every area of the syllabus, full technical advice, and of course our highly organized and professional gradings, Hung Sao Do is the choice for any forward thinking Karateka.
We are ready and waiting to take you forward in the teaching of Hung Sao Do Freestyle Karate.
You can contact us by telephone or email to discuss any requirements that you may have. The contact details for Hung Sao Do can be found on the Making Contact page